What is Yoga for Additional Needs?

Inclusive yoga. The children are absolutely able to be themselves. The session is for them. With no expectations. Meeting each individual where they are at.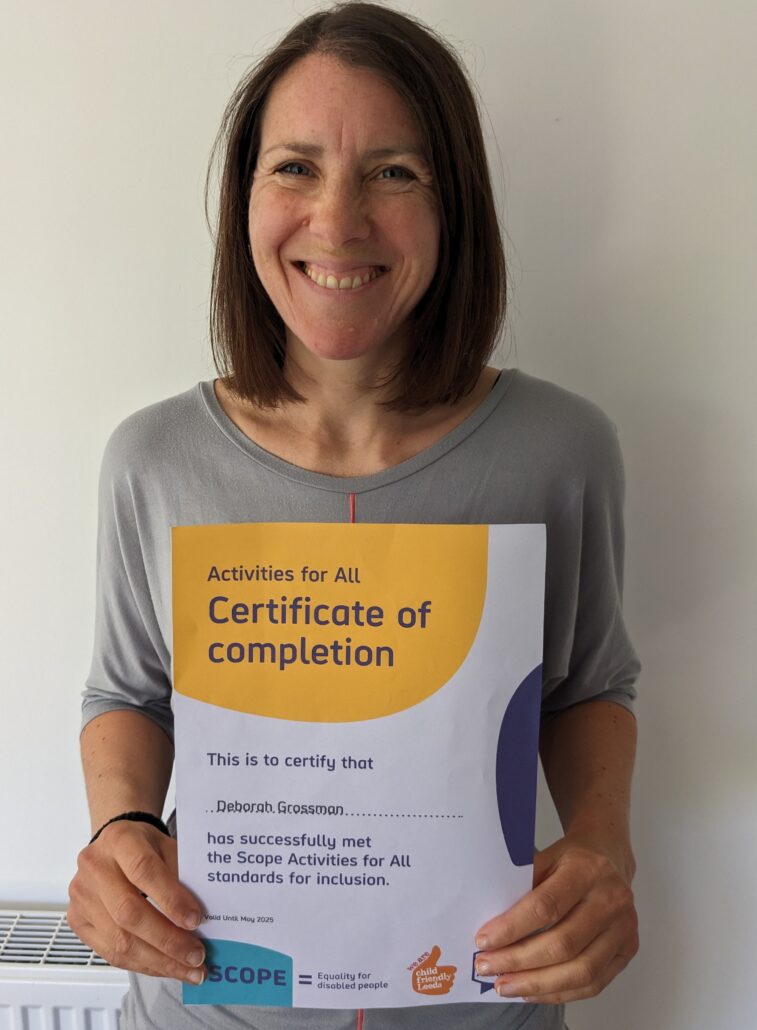 I offer yoga for people with a variety of additional needs and vulnerabilities, including autism, ADHD, Cerebral Palsy, Down's Syndrome, learning disability/ difficulties, PMLD (profound and multiple learning disabilities), sensory difficulties, complex needs, anxiety, OCD and other physical/ mental/behavioural challenges. Yoga can help young people reach their potential.
I have recently been awarded the SCOPE Inclusive Activities Award which helps me to follow best practice in every aspect of my services and gives teachers, parents and carers the confidence they need when choosing activities for their children.
Yoga sessions focus on the following areas:
Breathing practices
Physical postures
Deep pressure massage
Sound therapy
Mindfulness
Relaxation
The benefits can include:
Improving motor control and motor planning skills
Developing physical strength, muscle tone and balance
Promoting flexibility and correcting postural misalignment
Increasing self-awareness
Establishing calm, organised mental states
Improve concentration
Reduce hyperactivity
Relieve respiratory ailments
Develop the ability to relax
Release tension
Reduce fear, frustration and stress
Enrich the quality and quantity of sleep
I teach this at sessions in studios and in conjunction with various organisations including SNAPS, Mencap and Little Hiccups, Adel Beck, educational settings and as 1:1 & Family Yoga, in a studio or at your home.
Please subscribe to my newsletter to be kept updated.
Testimonials
Parent
What parents say about these sessions…
"My daughter has been having bi weekly sessions with Debs for over two years, my daughter has complex needs, wheelchair user, and a diagnosis of Cerebral Palsy. A strong and comfortable relationship and bond has been established, my daughter benefits physically, emotionally and mentally from these sessions and I could not recommend Debs enough she is truly amazing and always ready to adapt sessions to my child's needs."
"Yoga with Debs was miraculous on Saturday for my children. One was very dysregulated beforehand and the yoga gave him the sensory input he needed and also really helped him emotionally – it was the calmest I'd seen him all week. My other child spent the whole day telling everyone how she'd been doing yoga to help her clear her mind! Debs is amazing with the children and was even able to offer some tips to help with some physical issues. Thank you Debs and Snaps!"
"Whenever the kids have done yoga with her there is a noticeable positive difference all day."
Yoga, Movement & Sensory Balancing Courses co-hosted with Autumn Blossoms 
These can be delivered through schools, not-for-profits or private settings. To organise a course at your organisation or a 1:1 for your child, please get in touch.
Each session is based on the principles of movement, body work, breathwork and exploration. This approach creates a space for exploration, inspiration and sharing. The sessions:
Develop yoga as a joyful and calming tool
Build upon each other, each focusing on a different discipline
Are opportunities to build your support network and learn from fellow expert parents.
Teachers say:
"… the deep breathing exercises are extremely helpful for him and a strategy we have been teaching him to use when he is in his calm area in school."
".. noticeable changes in his behaviour and is able to articulate his feelings and needs much more than he was before."
Parents say:
"The whole programme was useful; the group worked really well and Emily and Debs were fantastic"
"I learnt a lot of strategies to support … with his core and relaxation techniques"
What to expect….
Yoga for children with additional needs includes the classical yoga practices of movement, breathing, deep relaxation combined with sound, rhythm, massage and sensory integration techniques.
The children are absolutely able to be themselves. The session is for them. With no expectations. For more information please contact me.
Everyone is special. Regardless of abilities, appearance, culture, gender, race or the assumptions society has placed on us.
Having completed training with Special Needs Yoga my understanding is that we can help take children out of their stressed state and help them move into a relaxed state that creates the optimum condition and possibility for positive change. Simply starting by meeting every child with a pure intention to create a practice that encourages them to reach their fullest potential and celebrating the strength within each child we work from there.
Movement Based Learning techniques are incorporated into the yoga sessions with the children. Movement-based learning has come to be known in the neurobiological field as any brain-based learning that stimulates the growth of neural pathways through movement of the body.
Through observation of postural and behavioral cues develop a movement program that will enhance a more integrated way of learning. This will allow for the child to accomplish his goals in life with greater ease – the goal may be walking, talking, self-feeding, reading with ease, organizing classroom tasks, relating to peers or learning to self-regulate behaviors.
For more information please get in touch.

I have been awarded the Inclusive Activity Award by SCOPE Leeds which means that I follow best practice in every aspect of my service, giving you the confidence needed when choosing activities.